Growth is essential for any enterprise. If you are not growing, then (obviously) it means you are losing out on new business. 2020 was a disruption for most brands. While some businesses, like Zoom, flourished, others, such as shipping businesses, struggled.
Throughout 2020, B2B marketers were forced to adapt to the fragile state of the world. They did so by embracing survival tactics and shifting their goals.
With the onset of the COVID-19 pandemic, most companies strongly encouraged their employees to work from home. But this shift posed a challenge to marketers. Advertising channels are now having a hard time fighting for people's attention during their leisure time.
Most B2B marketers are now looking forward to building new and robust strategies in 2021.
Over the past ten years, B2B has undergone immense growth and revolution. Digital content is the engine of most B2B marketing strategies, and your business needs to stay ahead of the pack by figuring out how to leverage this tool.
With all that has changed in 2020, what trends should we expect to see in B2B marketing this year? The following are trends to watch throughout the year to enhance your marketing efficiency.
Most companies will use chatbots.
Estimates show that about 80% of brands will embrace chatbots to save dollars usually spent employing customer service personnel. Chatbots have taken over online marketing and are a crucial part of web design. Clients expect quick turnaround times on their inquiries, which will be difficult to implement without utilizing chatbots — your clients no longer need to (or are willing to!) wait for hours for a simple reply.
The use of chatbots will continue to act as a vital business feature in 2021. One of the many benefits of chatbots is that they will give you helpful consumer insights by collecting data on your consumers' experiences.
Moreover, they are used by most companies to help their clients navigate through their websites and answer their clients' most frequently asked questions.
Chatbots will help online businesses provide quick and bespoke experiences for your customers. As a result, you will increase your clients' engagement levels, connections to your firm, and overall customer satisfaction.
The omnichannel approach to marketing will rise.
Prioritizing client retention should be an easy task for any business. We foresee that retaining clients will take up a prominent spot in the marketing agenda in 2021. Hence, B2B marketing teams will need to adopt innovative client nurturing programs, like embracing omnichannel marketing.
Today, customers skim through different sources for brand information. Omnichannel marketing involves being able to reach consumers through various platforms while still maintaining a consistently valuable experience for them.
Statistics show that businesses that embrace the omnichannel strategy can retain up to 89% of their customers, unlike competitors that do not use this style of marketing. Having a presence on every digital touchpoint that clients use, such as social media, websites, and mobile apps, can have a positive impact on your financial returns.
Businesses will focus on creating more interactive content to increase consumers' engagement experiences.
Interactive content means requiring your visitors to do more than just scrolling through the website. Making more interactive content for your business will impact it positively by increasing consumer interactions and engagements.
Studies show that interactive content is more likely to attract visitors' attention as compared to other content categories.
How can you create more interactive content?
You start by creating interesting quizzes, using visuals like interactive videos, sharing eBooks and infographics, and encouraging your consumers to share your posts across their social media platforms. By coming up with effective interactive content, you retain your customers and consequently increase sales. Hence, expect to see marketers increasingly use interactive content to draw leads to B2B sites. 
Artificial intelligence will become even more important for marketing purposes.
We cannot underestimate the impact artificial intelligence (AI) has on our lives. With each passing day, digital technology becomes more revolutionary and more useful to us. With technology allowing customers to obtain answers with just the click of a button, their levels of expectation become progressively high. AI plays a huge role in improving customers' experiences and helping your brand become relevant and unique to each visitor.
B2B marketers that are leveraging AI for their marketing purposes are also more efficient than those who are not doing so, and are able to perform faster analyses of their current scenarios.  
Businesses will double down on optimizing the customer and employee experiences.
According to a survey by Gartner.com, more than three out of four people have confirmed that at least one of their latest B2B purchases was complicated. The challenges that were brought about by 2020 caused even more complexities, leading businesses to double down on optimizing experiences. Any experience created by a brand's content, either for customers or employees, is equally vital.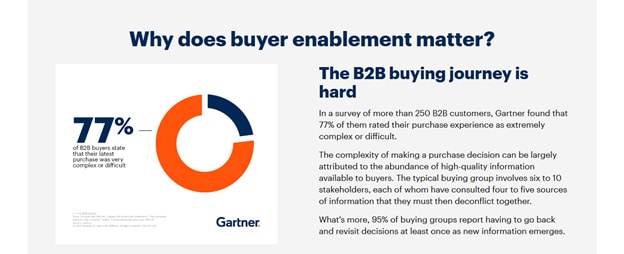 In 2021, brands will focus more on optimizing experiences by emphasizing the authenticity of their communication and infusing empathy and emotions into their brand marketing strategy. Building emotional connections and cultivating relationships with consumers will play a huge role in the growth of a brand.
Since most B2B buyers have shifted to the digital platform, marketers should understand their audience's expectations and engagement experiences in order to optimize them accordingly.
Content marketing will become even more critical.
Content marketing is a leading "attracting tactic" and is not slowing down anytime soon. A study by ContentWriters showed that 61% of marketers issue blog posts several times a week; 81% of the respondents claimed to receive quality leads through content marketing.
We cannot underestimate the importance of having authentic and quality content for your business. Having a fully fledged content marketing master plan for your enterprise is a smart decision to achieve exponential growth for your business.
Content creating is much more complex nowadays. It involves researching your market thoroughly, understanding your consumers, and carrying out comprehensive campaigns.
The key to successful content is creating more value for your audience. Brands that are still not committed to having a smart content marketing strategy are likely to continue struggling to get their footing in this rapidly changing digital landscape.
The year is still young, and there is more could play out in the 2021 B2B marketing playfield. However, if you can stay abreast of the above key areas, you're set for a successful marketing year.